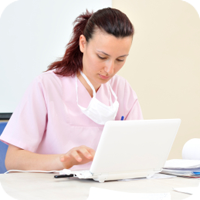 Continuing education is important, even after veterinarians have completed their college studies and acquired the appropriate licenses.
Students interested in a career in veterinary medicine should begin their preparation by doing well in general science and biology in junior high school. They need to take a strong science, math, and biology program in high school. Admission into veterinary medical school is competitive. In fact, many people would agree that it's just as tough if not tougher to get into a veterinary medical school compared to a human medical school.
To be considered for admission to a college of veterinary medicine, a student must first complete undergraduate preveterinary medical coursework, which usually includes three to four years of college study, with specific course requirements. Each college of veterinary medicine establishes its own preveterinary requirements. Typical requirements include basic language and communication skills, social sciences, humanities, mathematics, chemistry, and the biological and physical sciences.